The Fearless Girl
On December 16th 2012 a young women was gang raped in Munirka, located in the Southern Part of New Delhi. The young women was an aspiring physio-therapist and she died twelve days after being raped by six men on a bus due to internal injuries.


The women's official name was never released, as that is part of tradition in India. Instead the capital and the media has aptly named the young rape victim as Nirbhaya (means Fearless Girl in Sanskrit and Hindi). This situation has made all of us think –think really hard. She fought for her life against six barbarians in the disguise of men and wanted to live to see justice was done. Circumstances made her a pitiable victim yet she emerged a True Heroine because of her Never Say Die spirit till the last breath. May her soul rest in peace.
Enough by Vanshika Girdhar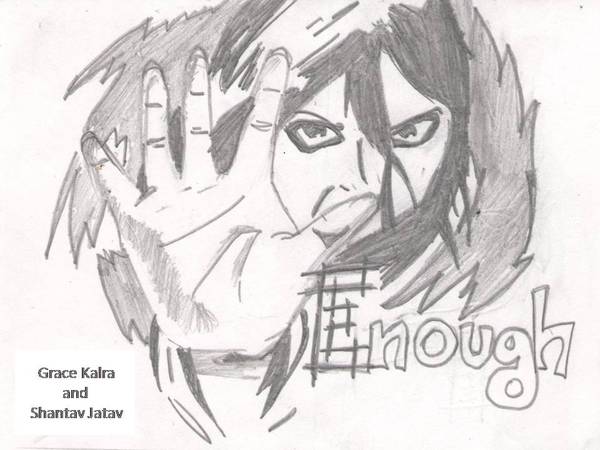 ENOUGH!
I fought!
I bore!
I tried! The beasts were merciless!
I don't regret what struck me!
I am just full of pity
For the beasts
Whom God will never sustain!
My soul..
Won't be at peace EVER!
I was treated as an animal
The beasts will still be free!
The society's such!
I was just like another girl!
Fate had it for me!
The times were such
I was just as innocent ..
like any other being..
It had to happen with me..
The society's such!
People said- I should've prayed!
People said- I shouldn't have fought!
People said- I should have apologized and begged for mercy!
But why? When I did absolutely nothing wrong!
Yet again
Mother India's daughter
Suffered;
And yet again,
Mother India
was shamed!
That dreaded day!
Change Inspired by the Incident
This was not an incident that we were really aware of in the United States. It was very interesting to hear about the changes inspired by this atrocity. As a result of the atrocity India is now requiring that GPS Systems be installed in all buses. According to Puneet Goel "The device is for not only tracking the bus for route and speed violations but also send help in case of a distress call. For instance, the press of a panic button, can help the police track the vehicle." We need to make sure that we are doing our best all over the world to ensure safety on our transist systems. All countries should make sure that they have something like this in place.