How Can We Help?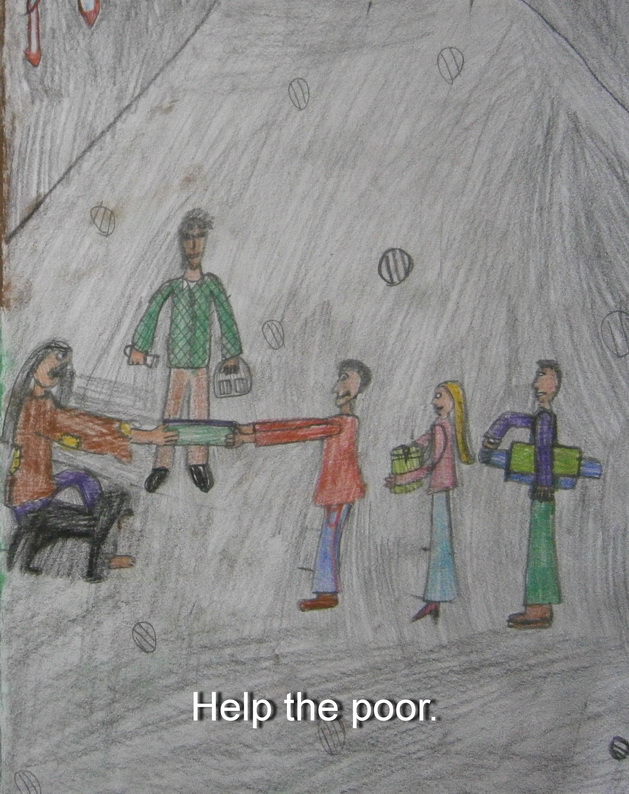 It is very common to hear of students taking steps to help those close to them, such as the people they come in contact at school, in their neighborhood, friends, and family. But very little do we hear students discussing what they can do to help those in other countries or those in their community that are less fortunate then themselves. Believe it or not today we can make a small difference in someone's life and it is probably much easier than you think. Something you think is small or unimportant can make a huge difference in the life of someone that is less fortunate!


According to Michael B Sauter, Alexander Hess, and Samuel Weigley in their article The 10 Poorest Countries in the World In Haiti, "half of their population lives on just $1 a day! In the United States, most of us spend more than $1.00 on just one meal. What seems like such a small amount to many could make such a difference to those less fortunate. In fact if you donate $1 food banks can provide 8 meals to men, women, and children that are starving throughout the world (charitynavigator.org). If you don't have the spare money to donate, you could also collect canned goods or donate time to work at a food pantry.


Helping the poor won't only be life changing for them but it will make you feel proud about yourself that you made a change in someone's life. Also, you can make a change in your own community. Call your local homeless shelter and offer your help. Make donations of food, money, clothing, a bag of groceries, or toys. Donating is a great thing to do and many of us just throw our clothes away! Americans throw away an average of 68 pounds of just clothes a year (earth911.com)! You can volunteer at a shelter or a soup kitchen. You can join places like Habitat for Humanity to assist with creating shelter for the homeless. Whether you are young or old, there are many things you can do to help the homeless. Help Heal the World by helping the Homeless!
What does Julian Do?
Students at Percy Julian Middle School collected can goods around Halloween time and donated them to a local food pantry. Students also do monthly PADS breakfasts where they donate items to create breakfast meals for the less fortunate. During the Winter seasons students collect coats for our annual winter coat drive in hopes of providing some warmth to those in shelthers. Students also participated in Adopt a Family at Christmas Time. Each advisory class in the school adopts a family and provides them with presents to complete their Christmas Season! Every teacher and child at Julian participates in this event.
What does St. Marks Do?
Sharing is a part of value system and is engrained in the ethos of St.Mark's Sr.Sec.Public School, Meera Bagh. The school has been actively contributing to SOS Children's Villages, an NGO which works towards fulfillment of rights of children in need by providing them the love, care and security of a family. On 12.3.2013, the SMS Family yet again proved its commitment to social causes by presenting a cheque of Rs.5,58,573/- to Ms.Yasmin Riaz, Dy.National Director – Fund Development and Communication, SOS India. She expressed her gratitude to the students of St.Mark's School and said that this is the highest collection made by any school of Delhi. The top 4 collectors were appreciated for their efforts. The highest amount of was collected by class IIIG. The Class Teacher Ms.Meena Sharma was given a token of appreciation for the same.